More and more convenience store owners and operators are looking for options to replace the older T-12 lamps in their walk-in cooler doors with LED cooler door lights for convenience stores. As the supply of magnetic ballasts used to power this outdated technology, now is the perfect time to upgrade your facility's lighting to a more energy efficient system with LED cooler door lights. These LED replacement lamps replace the existent fluorescent lighting on your glass door merchandising walk-in cooler and freezer with 4', 5' or 6' long LED light strips.
Call sales toll free 1-844-LED PROS (1-844-533-7767)

LED Cooler Door Lights For Convenience Stores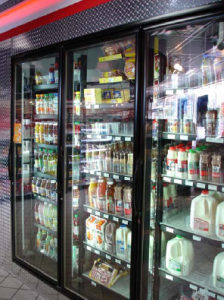 SimpleTube LED features energy savings over the fluorescent lights typically used in coolers and freezers. SimpleTube LED cooler door lighting use only 15 watts for a 5-foot strip and 19 watts for a 6-foot.
These new refrigerated display lighting produce much less heat than a fluorescent light, which will lessen the load on the convenience store compressors
While energy savings is a key component to retrofitting your walk-ins with SimpleTube LED cooler door lights, the real impact is the attractive quality of the light it gives off. LED cooler lighting gives the convenience store refrigerated and frozen products a beckoning glow and more uniform illumination than fluorescent. In the retail business we all know that the more appealing the product presentation, the more likely a customer will be motivated to make a purchase.
When considering any retrofit project, check with your local Utility. Many offer incentives and rebates which help lower the initial investment. According to the Energy Cost Savings Council, energy-efficient lighting projects generate an average 45% return on investment, paying for themselves in just 2.2 years.
It's an industry first, using direct 120 VAC input eliminating the need for a bulky power supply. This ballast-free lamp has a patented internal driver which makes it remote power supply free. Installation? as easy as connecting speaker wires. 
Buy Direct and Save $$$ – All of our lighting fixtures ship factory direct to your facility. Call sales toll-free (1-844-533-7767)
Filed under: LED Lighting