As part of the Light Fair industry conference going on now in Las Vegas, a number of new long-lasting LED replacement lamps made their debut today, including a liquid-cooled bulb from Switch Lighting.

Also on tap are LED offerings from General Electric and Philips.
Switch said its new LED A-lamps are a true replacement for the incandescent bulbs that are common in U.S. homes and businesses. The company's new lineup can be used in any fixture or orientation – inside or out.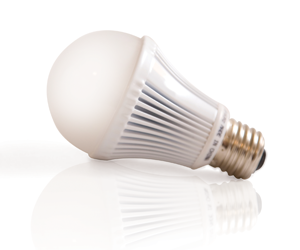 Switch said its thermal cooling system "uses a special liquid to move heat out to all surfaces of the bulb – not just the heat sink – for more rapid, even cooling, just like Edison did."
A cooler bulb can handle more power, allowing a brighter light that lasts longer, Switch said.
As other companies have found, GE said its "chief nemesis was heat."
"Though LEDs need a fraction of the power consumed by the incandescent bulb, the 27 watts that run the new bulb still make the LEDs inside so hot they could boil a cup of tea," GE said in a statement. "LEDs are made from silicon, just like the semi-conductor chips inside your computer. Without cooling, they will burn up."
May 8, 2012
Read the entire article By Chloe Albanesius
Buy Direct and Save $$$ – All of our lighting fixtures ship factory direct to your facility. Call sales toll-free (1-844-533-7767)
Filed under: LED Lighting